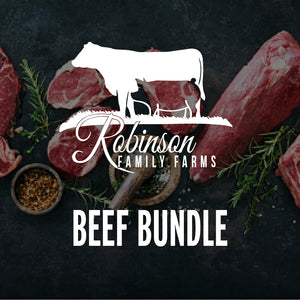 This bundle includes a variety of steaks

steaks (ribeyes, t-bones, and sirloins)
hamburger
roasts
beef short ribs, stew meat and soup bones.

Each bundle is uniquely packaged to include a variety of cuts, therefore not every bundle will be exactly the same.

Because of their size, beef bundles are only available for shipping under special circumstances, but we're happy to work with you if you'd like to make it happen! Please contact us for more information, tammy@robinsonfamilyfarms.com.

For people who like bulk meat, but don't want to invest in a whole or half, this is the perfect size.